Legionnaires' disease: Family hid details from woman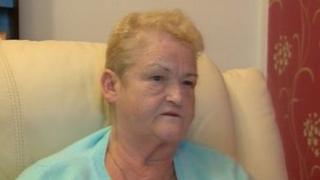 The daughter of a woman from Stoke-on-Trent who had Legionnaires' disease has told how she kept the seriousness of her condition from her.
Dawn Roberts, 34, said she knew her mother June Clews was at "great risk" because she had existing lung problems.
She said: "I didn't tell her how serious it was because I didn't want to panic her."
Mrs Clews, 64, from Porthill, spent 10 days in the University Hospital of North Staffordshire.
Mrs Clews also suffers from COPD (chronic obstructive pulmonary disease), which can affect the lungs and cause shortness of breath.
'Really poorly'
She said she had sat next to a hot tub in the JTF Warehouse in Fenton, which the Health Protection Agency said was the "probable source" of the outbreak.
Mrs Roberts said: "I was glad when they found the source of the outbreak because you keep worrying about where it's come from and if the rest of the family are at risk, so it was important that they found it."
Her mother said: "I felt really, really poorly but I thought it might be linked to my illness. I had a bad headache and I was sweating although I felt really cold.
"When I was diagnosed with pneumonia at first, I don't think the nurses were looking for anything worse but on the Sunday I deteriorated and they came back and said it was Legionnaires'."
Mrs Clews is now recovering at home after being discharged from hospital.
The Health Protection Agency said there had been 19 reported cases of Legionnaires' disease in Stoke-on-Trent, including one patient who had died from the disease.
Mrs Clews was among the first seven patients to be confirmed with the disease and was interviewed in hospital by the agency as officials tried to find the source of the outbreak.
The HPA said investigations were "on-going" at JTF Warehouse in Fenton, Stoke-on-Trent, and the company was co-operating.