Traders oppose Burton-on-Trent market hall refurbishment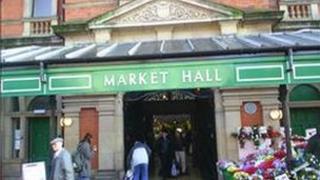 More than 4,000 people have signed a petition opposing plans to transform Burton-on-Trent's market hall.
Under the proposals the indoor market will be a retail centre during the day and an entertainment venue at night.
Some market traders will be relocated to another part of town and others moved inside the hall, which will be refurbished.
Stallholder Wendy Newitt said it would be "sounding the death knell" for her business.
"The petition shows that people who use the market want it kept where it is.
"Customers don't want to traipse from one part of town to another to visit all the stalls."
The plans will go before East Staffordshire Borough Council for approval on 13 August.
The authority held a three-week consultation period on the plans which ended in July.
Council leader Richard Grosvenor said: "What we are proposing for the Market is something that will not only revitalise it, but also the appetite for shopping across the town."