Staffordshire tumour woman's family want helpline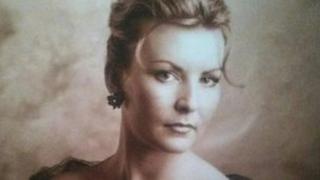 The parents of a Staffordshire woman who died after suffering brain tumours hope to support others in a similar position through a dedicated helpline.
Trudy Shingler, 35, from Burton-on-Trent, died in February 2011 having been diagnosed the previous October.
Her parents set up Trudy's Trust because they were unhappy with the support they received at the time.
They hope to raise enough money to be able to offer advice via a telephone support service later this year.
Mrs Shingler had surgery and three cycles of chemotherapy but the attempts to get rid of her two tumours were unsuccessful.
'On our own'
Her family said the former forensic psychologist, who was married and had a young son, required round-the-clock attention as she battled for survival.
Mrs Shingler's father Mark Leeson said: "From a caring point of view, once we left the hospital we were almost on our own.
"Nobody sat us down and explained and took the time to do that.
"As soon as Trudy had passed away it was almost as if it was case closed. Emotionally we had to support ourselves."
Mr Leeson admits they did not ask for more help at the time.
"These aren't the questions you rationally think about," he continued.
"It was a rollercoaster.
"Trudy passed away within four months of diagnosis.
"You don't think at the time of asking the right questions."
Trudy's Trust was set up a year ago and the family initially managed to raise £16,000 which was donated to Brain Tumour Research.
But the charity's focus has now switched to supporting other families in similar positions.
Mr Leeson said they have a group of 10 volunteers willing to offer advice but added that they need about £50,000 in order to set up a permanent helpline.