Legionnaires' outbreak: Stoke MP urges public inquiry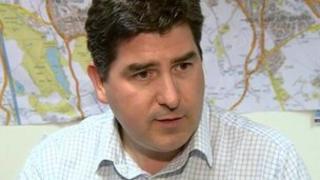 An MP has called for a public inquiry into a Legionnaires' outbreak in Stoke-on-Trent after two patients being treated for the disease died.
Stoke South MP Rob Flello said a more co-ordinated approach should have been taken by the agencies involved.
The Health Protection Agency (HPA) said decision-making had been appropriate.
A hot tub at the city's JTF Warehouse has been the focus of investigations. The owners said they had co-operated fully with investigating authorities.
There have been 21 cases since the spate of illnesses began in the middle of July.
The Labour MP said: "I think because of the rarity and because of the importance of learning lessons, that's why an inquiry has to be held.
"[The disease has] had an outbreak here in Stoke-on-Trent.
"There was an outbreak I think fairly recently in Edinburgh, and indeed there was also I think an isolated case in Stoke-on-Trent some months ago."
The inquiry call has been backed by the family of Richard Griffin, 64, from Stoke-on-Trent, who died last month from multiple organ failure.
Daughter Rachel Griffin said: "I know it's not going to bring my dad back.
"But I think it's really important that there is an inquiry because we really need to know what the circumstances were that led to the outbreak."
A man in his 70s has also died.
On behalf of all organisations involved in the investigation, the HPA said communications and decision-making had been robust, timely and appropriate since the start of the outbreak.
The hot tubs which had been on display at the warehouse have been withdrawn from sale.