Memorial plans for Greece race death runner John Lawton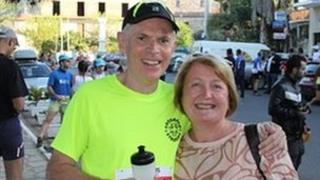 Friends of a Cheshire runner found dead on a mountainside in Greece after going missing in a race there in April are planning a memorial for him.
John Lawton, from Alsager, disappeared while competing in the 35km (21-mile) Taygetos Challenge, near Kalamata.
Michael Escolme, chairman of the Sandbach Striders running club, of which Mr Lawton was a member, said they wanted to lay a plaque in Greece.
He said Mr Lawton would "always be a member of our club".
Mr Lawton's wife of 43 years, Lynda, and their son flew out to Greece on Wednesday.
Mr Escolme said Mr Lawton and his wife were always "very popular" members of the club and their friends were keen to make sure Mr Lawton's life was marked.
Love of her life
He said: "It's still very much in the planning stages because we'd been hanging on, hoping there would be more positive news.
"But some of the group had been planning to go out in September to help with the search for John.
"Despite the news, they're going to go out anyway and we're hoping we can get a plaque together that they can lay while they're over there."
Mr Escolme said members of the club would raise money for the plaque themselves. He added they were also talking about naming an event or a cup after Mr Lawton.
In a statement on Thursday, Mrs Lawton said her husband would always be the love of her life.