Staffordshire canal lock chamber open to public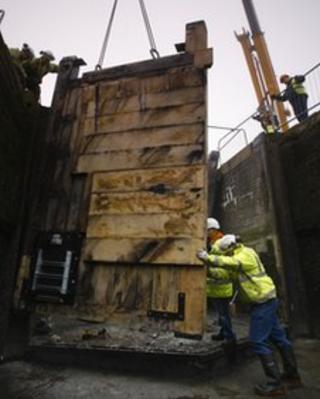 Members of the public have been given a chance to explore an empty canal lock in Staffordshire.
The Canal & River Trust held a lock gate replacement open day on the Trent and Mersey Canal near Kidsgrove.
The event, at Limekiln Lock, invited people to walk down into the lock and talk to experts about work being carried out on the canal.
Steel gates on the lock between Kidsgrove and Church Lawton are being replaced with traditional oak gates.
The lock floor has been cleaned out and the paddle mechanisms which control the water coming in and out are to be changed or serviced during a project costing nearly £50,000.
The Canal & River Trust recently took over the running of more than 2,000 miles of canals and rivers in England and Wales from British Waterways.