Lichfield Cathedral life captured in photographs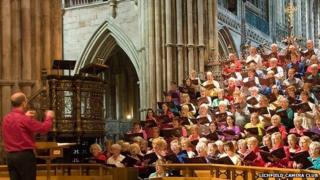 Lichfield Cathedral is being celebrated in a new exhibition created by a group of local volunteer photographers.
Lichfield Camera Club produced over 3,600 images capturing events at the cathedral over a 12-month period.
The Queen's visit and a live television broadcast at Christmas are included in the project, which began in April 2011.
Photographs are on display at the cathedral until 27 September and money generated from any sales will go towards its East End Appeal.
A member of the camera club, David Wain, said they had been "honoured" to be asked to carry out the task.
Mr Wain said: "It proved to be a challenging subject that put us all on a sharp learning curve.
"It was a joy and privilege to have access to the iconic place."
The Dean of Lichfield, the Very Reverend Adrian Dorber, said: "The cathedral's life is complicated, fascinating and incredibly varied.
"In thousands of beautiful images, Lichfield Camera Cub has sifted through to the heart of what the cathedral is about.
"It's a great achievement and I am delighted at what has been done."
The cathedral has set a target of £600,000 to complete the restoration of its famous Herkenrode stained glass windows.
It set up the East End Appeal two years ago to help raise the money.