UV lights used in fake booze crackdown in Staffordshire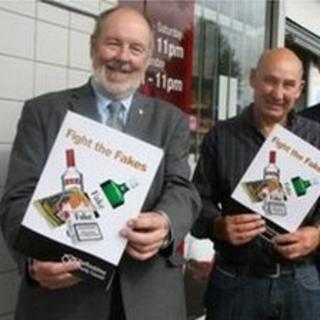 More than 300 shops are being given UV lights to check duty marks on spirit bottles as part of a crackdown.
Staffordshire County Council is giving 334 independent retailers Fight the Fakes packs, which include advice on illegal alcohol and tobacco products.
The council said it began a crackdown last summer after reports that customers experienced burning throats after drinking certain types of vodka.
Tests showed it contained methanol, used for cleaning and antifreeze.
The discovery led to trading standards officers seizing 1,800 bottles of counterfeit alcohol from 73 premises. More than 400 shops had been visited.
The Food Standards Agency has given the council £50,474 to help in the fake goods crackdown.
Cabinet member for communities Pat Corfield said: "Our fight against the sale of dangerous counterfeit alcohol continues and we understand it will be an ongoing problem.
"However if we're taking any dangerous counterfeit goods out of circulation we are achieving our goals."