National Memorial Arboretum service for 59 killed in 2011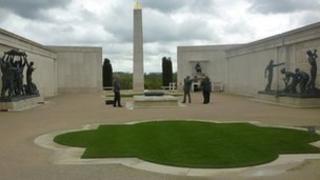 Tributes have been paid at a service at the National Memorial Arboretum in Staffordshire to members of the UK Armed Forces who died last year.
The annual service of commemoration for the families of those killed was led by Bishop John Kirkham, former Bishop to the Armed Forces.
Tributes were paid to the 59 people killed on duty or as a result of terrorism, organisers said.
It took place at 10:00 BST with an invite-only congregation of 350 people.
The arboretum is home to the Armed Forces Memorial which commemorates those killed from the end of World War II to the conflict in Afghanistan.
'Give thanks'
Chief executive of the arboretum, Commander Charles Bagot Jewit, said: "It's all about the families and a lot of them look on it as an opportunity to achieve some sort of closure.
"With the names on the wall it's an opportunity to come together and give thanks for their lives."
He added there were now more than 16,000 names on the memorial wall with the addition of the 59 remembered at the service.
Families of those named on the wall will lay wreaths next to it.
Ten members of the Royal Navy, 45 from the Army and four from the Royal Air Force have been inscribed on it.