Survivor of Lidice massacre 'grateful' to Stoke-on-Trent people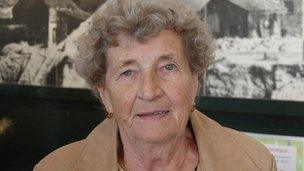 "I have mixed emotions because although the Germans took everything from me, my family and my home, on the other side of things they allowed me to survive the war."
Marie Supikova, 80, was just nine-years-old when her home village, Lidice, near Prague in what was Czechoslovakia, was invaded by German soldiers on 9 June 1942.
She was arrested by troops along with her parents and her brother Josef, who was 15.
Nearly 180 men were executed in the village, including her father, and the village was burned down.
Her mother was sent to Ravensbruck concentration camp, 50m (80km) north of Berlin, and Ms Supikova was put on a train to Lodz in Poland with other children.
She said: "We cried and cried because we were very scared, upset and confused. We didn't know what was happening.
"It was the first time I had experienced hunger and suddenly I had no food and I was sleeping on the floor.
"I couldn't get clean or comb my hair and I didn't have any other clothes to change into, so I wore the same dress the whole time which got torn."
Ms Supikova was one of just seven children out of 89 that survived the massacre, which she said was because she "fitted the German conditions".
"We all had blonde hair and blue eyes, we looked like the type that they could German-ise easily and raise as a good German girl or boy," she said.
She was sent to a German family living in Poland and had her name changed to Ingeborg Schiller.
"I wasn't perfect because I didn't have really blonde hair, but I was very lucky and happy that they had chosen me," she added.
Ms Supikova said she later found out that the remaining 82 children were murdered during their transport to Poland in two lorries which were converted to be gas chambers.
Her brother Josef was sent to Prague, where he was executed by German soldiers, after they discovered he had lied about his age.
"When they found out that he was older than 15, even though it was just two months older, he was shot and killed."
In 1946, she was reported to the Czech authorities by her adoptive family and returned to Czechoslovakia in July of the same year, to be re-united with her mother.
"We recognised each other instantly, but we couldn't talk to each other because I spoke only German and had forgotten the Czech language," she said.
"We had to have a translator from Lidice who helped us to talk and my mother told me that she always believed I had lived [through the war] and that she would see me again."
The pair lived together for just four months, when her mother died from tuberculosis.
Ms Supikova went to live with her aunt in the city of Kladno, where a number of Lidice survivors had settled.
She has since moved back to Lidice where she worked for the Lidice National Committee. She retired in 1986.
Along with Jana Hanzlikova and Pavel Horesovsky, who were unborn babies during the massacre and are now in their 70s, Ms Supikova is visiting Stoke-on-Trent to mark the 70th anniversary of an organisation set up to help them.
The massacre inspired Stoke city councillor Sir Barnett Stross and local miners to set up the Lidice Shall Live campaign in September 1942 to raise funds for the rebuilding of the village.
Ms Supikova said: "I was one of the two girls who held the ribbon when it was cut by Mr Stross to open the memorial rose garden [in Lidice]."
"I always remember him when I pass through the garden and I always think about the people who helped to found it."
The survivors will attend the unveiling of a memorial plaque to Sir Barnett Stross and a memorial concert at the Victoria Hall on Saturday.
"We will always be very grateful for what the people of Stoke-on-Trent did for Lidice."
"I feel happy to be able to come to Stoke-on-Trent and remember the bond between the people here and in Lidice. It is very special."
Related Internet Links
The BBC is not responsible for the content of external sites.