Stoke-on-Trent City Council handed petition over staff move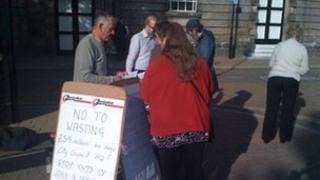 Traders in Stoke-on-Trent have handed over a 700-name petition against plans to relocate council staff to a different area of the city.
Stoke-on-Trent City Council plan to move about 1,300 staff from offices in Stoke town centre to a £40m new development in Hanley.
It is being built on the site of the council's former Unity House offices.
Traders in Stoke said the move would "kill off" the town, a claim denied by the city council.
Richard Snell, from the Save Our Stoke (SOS) campaign, handed the petition to councillors at a local authority meeting on Thursday evening.
He said: "1,300 workers are based here and do their shopping in Stoke.
"All that trade will be moved to Hanley and this place will go rapidly downhill."
'Big future'
The relocation will see the closure of the civic centre and Swan House.
Mr Snell said the move would encourage shoppers into Hanley at the expense of the other five towns that make up Stoke-on-Trent.
Cynthia Bruce, who runs a wedding shop in Stoke, said council staff made a big contribution to the local economy and that smaller shops and cafes would be likely to close if they relocated.
The Labour-run council said the new offices would cost about £40m to build, but would eventually save £2m a year.
Staff are expected to move into the new headquarters in 2015.
Council Leader Mohammed Pervez said the council's move to Hanley's new Central Business District would encourage private companies to relocate there and "help us create jobs for local people".
He said Stoke town centre had a "big future", with land for sale at the former Spode site, the Civic Centre and Swan House offering a "big attraction" for developers.