Lichfield Cathedral gets first girl choristers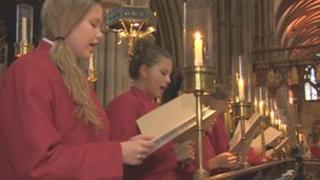 Lichfield Cathedral's first girl choristers have sung there for the first time in the cathedral's 800-year history.
Girls have sung as part of choirs in the cathedral before, but this year was the first time they were formally accepted into its Choral Foundation.
The girls, aged 10 to 15, are all music scholars who attend Lichfield Cathedral School.
The girls took part in a choral evensong at the cathedral earlier.
The girls will sing in the cathedral every Monday evening during term time and on two weekends each term.
They will also sing during the busiest times of year for the cathedral, such as Christmas and Easter.
Cathy Lamb, the cathedral's director of music, said: "There have been boys in the cathedral singing for well over 800 years and so it's exciting that girls are finally catching up.
"There are already quite a lot of girls' choirs in cathedrals and it's nice that we're following suit."