Roads in Cheshire closed after flooding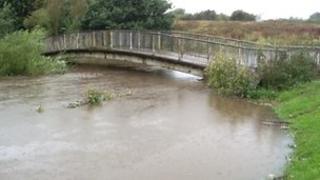 Flooding after heavy rain forced the closure of roads in Cheshire.
Cheshire East Council said it had worked with fire crews at Croxton Lane in Middlewich, where the Trent and Mersey canal waters had risen.
It said Moss Lane and Flowers Lane in Leighton, near Crewe, were closed and 350 sandbags had been put down to help protect properties there.
The Environment Agency (EA) issued a flood warning for the River Weaver at Shrewbridge Lodge.
There were also warnings for two places on the River Sow in the Tixall area and St Thomas area in Staffordshire.
An alert was issued on the Weaver at Nantwich, Frodsham, Crewe, Winsford and Northwich.
Nantwich resident Fred Bateman told BBC Radio Stoke the river was more than double its normal width.
Cheshire East Council said Warford Lane and Noah's Ark Lane in Great Warford, Bucklow Hill Lane and Hoogreen Lane in Mere, Maw Green Lane in Crewe and Whitehaven Lane in Faddiley were also closed.
It said heavy persistent rain since Monday had led to localised flooding and standing water on many of the roads, but it had hoped to get most of them reopened by Wednesday night.
It said it had handed out more than 500 sandbags.