Remploy workers leave Trentham Lakes factory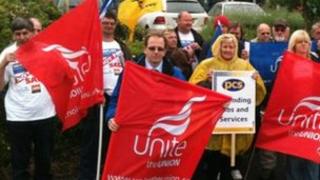 About 20 disabled workers have left a Staffordshire factory that is due to close in December.
The Remploy plant at Trentham Lakes is one of 36 operated by the company due to close after the government withdrew its support.
The government said the money could be better used to support disabled workers in the area.
The staff, which have made parts for JCB and GM, join 22 others that have taken redundancy since August.
In total more than 100 workers will have been made redundant by its closure, planned for Christmas Eve.
Neil Box, 58, who has worked at the factory for almost 20 years, said he felt "terrible and depressed" about his future.
"I don't know what I'm going to do. I've applied for five jobs - I've had two replies, rejected, and waiting for the others to reply.
"Nobody seems to want to take us on."
'Tear to my eye'
Colin Hanley, 62, a former Remploy worker and Unite trade union representative, described his job prospects as "frightening" and said he had decided to take early retirement after failing to find work.
"From a wage I was taking home of £230, it drops down to £71. You manage.
"That factory, to what it was, brings a tear to my eyes. It's empty, the only thing that's missing is the tumbleweed, it's a ghost town."
In a statement the Department for Work and Pensions said the Staffordshire factory had a shortfall of almost £1.8m last year.
"This money could be used to help support some of the 10,000 other disabled people in the area of working age.
"We have put in place an £8m package of employment support for those affected.
"Workers can also access the expertise of Remploy Employment Services, which has a good record of placing disabled people into work in North Staffordshire with 455 people helped last year."
The government said it intended to use the £320m protected budget for disability employment to encourage more disabled people into mainstream jobs rather than "loss-making segregated factories".