Nepal plane crash: Tributes to victim Stephen Holding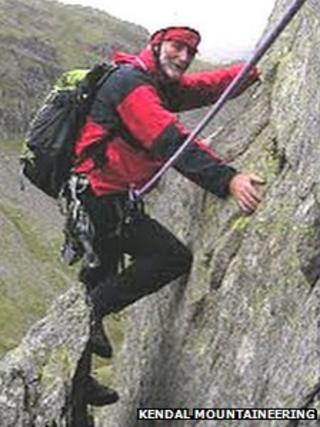 Tributes have been paid to a man from Staffordshire who was one of seven British people killed in a plane crash in Nepal.
Stephen Holding, 60, from Barlaston, was among 19 people who died when their plane crashed after take-off from the Nepalese capital Kathmandu.
Mr Holding was a retired teacher and a member of Bremex Mountaineering Club.
Matt Morton from the club said: "He was one of the nicest guys you could ever meet, a tall, gentle giant."
"One of the emails I saw from another club member described him as a wise old owl, which sums him up quite nicely," he added.
Mr Holding, who was identified by travel company Sherpa Adventures, leaves a wife, Maggie.
'Gentle nature'
"When I heard, it was a punch in the face really, a big shock," said Mr Morton, who said he had known Mr Holding for more than 10 years.
"You just can't believe that sort of thing will happen to someone you know, we were with Steve last weekend because the club had its 50th anniversary, we can't believe what's happened."
Malcolm Creasy, from the Mountain Training group in North Wales, went on a number of mountaineering expeditions with Mr Holding.
He said: "I had known him for 15 years, he was a really gentle natured man."
"In some ways you feel helpless, it's happened and that's it, and I was just talking to him a few days ago about the trip. It seems so surreal."
Mr Holding's house in Barlaston stands opposite the village post office and sub-postmaster Richard Wright said he was "devastated."
"He was a friendly character, we used to have the occasional pint together and my sympathies are with his wife, it's tragic."
The Sita Air plane came down minutes after take-off from Kathmandu.
The seven Britons' next of kin have been contacted, said the Foreign and Commonwealth Office.
Officials said the aircraft crashed into a river bank and caught fire.
The start of autumn marks the beginning of the Himalayan trekking season, which is popular with Western climbers.