Ben Williams chases triple-jump Olympic dream in USA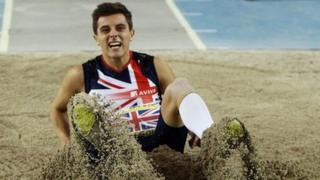 Triple-jumper Ben Williams has signed a $150,000 (£93,000) scholarship with a university in America which he hopes will see him achieve his goal of competing at the Olympics.
The 20-year-old from Stoke-on-Trent will attend the University of Louisville in January where he will be trained by one of the best jump coaches in the world.
"I think I've got everything I could out of this city, but it's time to progress, move on," he said.
"I won't be cutting ties to my present coach [John Crotty], because he's been amazing and I hope he will always give me advice, but the timing is spot on for me to go now.
"Louisville has got everything I need to achieve my potential."
Williams will be trained by Joe Walker, who coaches the current women's Olympic gold medallist long jumper, Brittney Reese.
"The US team won so many horizontal jumping medals in London so the sport at the minute is really, really strong," said Williams.
"Maybe they have secrets that they're not telling the rest of us, so I need to go there and learn some of them."
'It was devastating'
In 2009, Williams looked well on course to meet his ambition of competing at the Olympics.
He had become the world youth champion and had jumped a personal best of 16.09m (52ft), the second longest jump in history by a British 18-year-old.
But three years of training to reach London 2012 was disrupted by a recurring ankle injury and at the start of the year he was all set to quit the sport.
He said: "To come from such a high to such a low in three seasons and to not even progress just a little bit each year because of injury it got worse to deal with.
"There was times when I thought, why am I doing this anymore?
"But even when I was thinking that, I would still automatically get changed and drive to the track for training and it proved to me that I love what I do, no matter how annoying it can be sometimes."
A daily training regime involving medicine balls, free weights and sprint work helped Williams's ankle recover, but during his rehabilitation UK Athletics pulled his funding.
"It was devastating because after finishing at college I wanted to take a year out to train full time but I needed the financial side to support me.
"I spent almost a year looking for a job and I can't thank my family enough - my mum has been so supportive financially.
"My family will be the thing I miss the most because my mum has always said when I got offers from the States before that she wanted me to stay here.
"This time she said to me, 'go', she knows it's the right time for me," he added.
'Diamond in the dirt'
In March, Williams's best friend introduced him to Steve Gillatt, from sports recruitment company Harvard Global, who agreed to help him in exchange for a ticket to see him jump at Rio 2016.
Within three weeks, the University of Louisville's head of track and field had flown to Manchester to meet them both and the scholarship was signed.
Mr Gillatt said: "We knew that Ben had the potential to be a world-class athlete, a gold medal winner.
"The coaches knew about him even before I contacted them.
"Coach Walker actually said to me that Ben's a real diamond in the dirt and he knows that he can match his ambitions if he works hard in America."
That is a sentiment shared by Williams, who said he was confident of winning Olympic gold, eventually.
"I want Olympic gold - it might not come at Rio but I believe it will come at 2020," he said.
"If I can get to Rio and make the final, then follow that up with four years of hard training, I could get a medal, hopefully gold.
"I don't know why it shouldn't happen, if I work hard, it should."