Buying Cannock hospital 'not an option' for council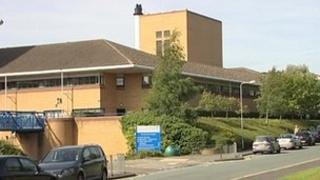 A council has ruled out buying a controlling stake in Cannock hospital because it would cost about £30m.
Conservative MP Aidan Burley had urged Cannock Chase District Council to buy 51% of the hospital estate to "protect its future".
Plans to close the hospital kitchens had raised fears over the possible downgrading of the hospital.
"In terms of expenditure needed we'd need to treble council tax," said the council's deputy leader, Janos Toth.
The council said its annual budget was just over £12m.
"It's not an option in my view, we've taken a look at it clearly and we do take every suggestion seriously but it does seem like it's not feasible," said Mr Toth.
"The hospital is part of the NHS and from that point of view the people of Cannock already own it.
"I don't believe people want their council to buy a hospital on their behalf that they effectively own already."
More than 150 people turned up to a public meeting on the future of the hospital at the Civic Centre in Cannock on Monday night, chaired by Mr Burley.
He has also formed a working group of "local NHS experts and stakeholders" which will hold its first meeting on 2 November.
'Exploring options'
Mr Burley said he didn't think that the district council should dismiss the option of buying the hospital without "exploring all its options".
"Looking solely at council tax is the wrong approach," he said.
"They should be looking at their overall estate and the possibility of selling off council buildings and assets that aren't well utilised, they can then use the capital receipts from that.
"It is clear from what was said at the public meeting that the NHS will never fully utilise Cannock Hospital.
"The purpose of the working group is to see how other public services - like health and social care - could be provided from there, so it remains open and fully used.
"It may be that the county council have a role to play, or maybe GPs could look at renting parts of the hospital, for example."
The Mid Staffordshire NHS Trust, which owns the hospital, said it had not considered selling part of its estate.
Seven wards out of nine at the hospital are empty, but the trust said it was "working with commissioners to find appropriate uses for those areas."
Chief executive Lyn Hill-Tout said: "We welcome other organisations using space in the hospital.
"For example we already have a GP practice based in the hospital and podiatry and eye care services, which are also run by other organisations."
'Hopeful outcome'
The trust said plans to close the kitchens at Cannock hospital and send food over from Stafford Hospital would save £220,000 year.
A consultation with workers about the plans had finished and a final decision would be made soon, the trust said.
The NHS regulator, Monitor, has commissioned an independent review of all the trust's services, the results of which it said would be published by next spring.
"We are hopeful that the outcome of the review will be that decisions are announced about which services are to be provided at both Cannock Chase and Stafford Hospitals in the future," said Ms Hill-Tout.