Cuban missile crisis: 'At arms length from our reality'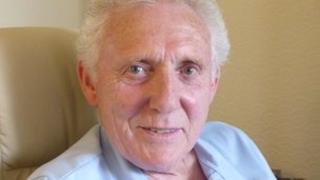 "We were more worried than most because we were certain that our sites were being targeted by Russian missiles to eradicate us before we got ours off to them."
Ted Basford, from Stafford, now aged 76, worked at the Thor missile base in RAF North Luffenham, Rutland, between 1959 and 1963.
"It took about 15 minutes from scratch to get them airborne and we always had to be on heightened alert," he said.
"We had to keep what we were doing at arms length from our reality, because you couldn't spend life in a mode of dread, you have to live like anyone else.
"We never really thought that we'd have to launch these things, or we always hoped we wouldn't."
Mr Basford was chosen to be part of Project Emily while working as an electrician at RAF Ternhill, near Shrewsbury, Shropshire, in 1958.
He was sent to the US to Sheppard Air Force Base in Texas on a training course for Thor missiles.
"When we got there, their liaison guy said you might find some anti-British feeling," he said.
"But it was just the opposite, people couldn't be more friendly, the Second World War hadn't long been over and many of the people there had fought in it.
"You would go in a bar wearing your stone-coloured uniform with gold stripes and the drinks would be flowing."
'High alert'
On his return to Britain he was deployed to RAF North Luffenham, which is now St George's Barracks.
He worked on power supplies for the missiles, which ran on a mixture of liquid oxygen and paraffin.
In total, 60 Thor missiles, developed by the US, were deployed at 20 sites in the east of England from 1958 as part of Project Emily.
They were manned by the RAF, although their warheads remained under American control.
The decision to launch them would have been made jointly by the two countries.
Mr Basford said: "We did tests in the deserts of California and we knew if we had used the missiles they would've done a lot of damage."
In October 1962, US president John F Kennedy was alerted to a secret build-up of Soviet nuclear missiles in Cuba ordered by Soviet leader Nikita Khrushchev.
Mr Basford said the base was put on "high alert" as the Soviet Union and the US went to the brink of nuclear war.
Kennedy went public with the crisis on 22 October.
"We were holding our breath for the week while it happened," said Mr Basford.
"I remember thinking at that time my wife was about two weeks away from giving birth to our daughter and I was thinking am I ever going to see my child, because we could all just be vaporised.
"The only information we really had was from the news on television, nobody had any inside information because nobody knew what both sides were thinking.
"It was really unnerving just watching these ships bringing more missiles to Cuba and Khrushchev and Kennedy staring each other down. Luckily Khrushchev blinked first," he added.
'Significant deterrent'
The crisis came to an end on 27 October when Khrushchev removed the missiles.
Project Emily was intended to remain in place until 1968, but the missile force was disbanded in 1963, with the weapons being returned to the US.
"Although we tried to think it was just a job, we knew the missiles had served their purpose, helped to keep the peace as it were," said Mr Basford.
"The Russians knew how effective the missiles would be and in the end that proved to be a significant deterrent."
Along with the former nuclear missile site at Harrington in Northamptonshire, the base at North Luffenham has been given listed status.
It has been given a grade II* listing on the advice of English Heritage and Mr Basford said he was pleased that part of Cold War history was being preserved.
He said: "They're not very picturesque like a timber framed Tudor building - they're just great lumps of concrete and corrugated iron - but they were a symbol of the time, at the height of the Cold War."