Shugborough estate to cut 34 jobs and reduce opening hours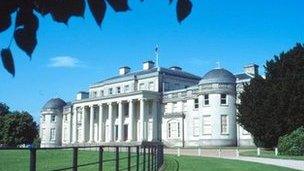 More than 30 jobs are to go at Staffordshire's Shugborough estate to help reduce a £1.4m budget deficit.
The county council is planning to cut visitor services staff, who work at the estate through the summer months, from 66 to 32.
Part-time staff will also be reduced from 17 to nine.
The authority also plans to open the estate six days a week instead of seven next year and close it for nine more days across the whole season.
The county council said it hoped to bring in volunteers to help run the estate and stately home during the summer.
Pat Corfield, from the council, said: "The staffing levels are very, very high in comparison with similar establishments.
"Although we don't want to make cuts, the bottom line is we do that or there's no other way of safeguarding Shugborough's future."
The council said Shugborough was operating at a deficit of £1m each year.
Takings were also down by 10% this year because of the bad weather through the summer, the authority said.
Steve Elsey from Unison, the union representing workers, said he had "some sympathy with the council's position."
He said: "Clearly the business needs to operate with a closer to balance budget than it does currently.
"We do have some real concerns about how it will continue to operate and maintain a level of expertise, because some of these staff have service going back to the 1970s and they have massive experience."
He said the union would also be discussing alternative cost-cutting measures with the county council.
Related Internet Links
The BBC is not responsible for the content of external sites.