Stafford hospital to admit chest patients at night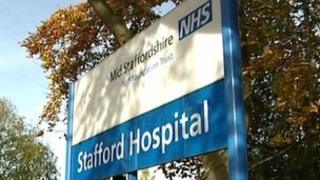 Emergency patients suffering from chest pains will be admitted to Stafford Hospital at night from next month.
The hospital has not admitted any patients at night since its A&E department closed between the hours of 22:00 and 08:00 last December.
It said it expected to treat two patients a night who would have otherwise been sent to hospitals in Wolverhampton or Stoke-on-Trent.
Only patients brought by ambulance would be admitted, the hospital said.
Medical director Robert Courteney-Harris said patients would be treated from 4 December but only "once the appropriate protocols were in place".
"We are delighted to be working with our commissioning partners to improve the experience of, initially, a small number of patients who are currently being redirected to other hospitals at night," he said.
'Positive step'
The hospital said about 15 ambulances a night were currently being diverted to other hospitals.
Cheryl Porter, from Brocton, who set up the Support Stafford Hospital group, said it was "a positive step".
At a meeting in September the hospital commissioning board decided to keep A&E closed overnight because it was concerned about "the sustainability of a 24-hour service".
The board said it was also worried about "the dilution of senior staff presence".
It said it was looking at a 24/7 emergency and urgent care service, which would be set up at the hospital as a pilot by December.