Cannock rate scheme attracts five firms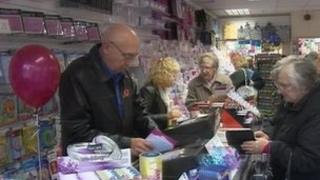 A scheme offering free rates for a year has so far attracted five new firms to a Staffordshire town.
The scheme was introduced in September in Cannock town centre to tackle the problem of empty shops in the town.
Jon Banner, of retailer Card Stop, said the district council's scheme attracted him to the town and would "make a big difference".
But some existing retailers say they have been badly hit by rate rises and need help too.
More than one in 10 shops in the country are now empty, according to the British Retail Consortium (BRC), which is calling for the government to freeze rates in 2013.
In June, 42 shops stood empty in Cannock.
'Can't survive'
Some existing traders in the town say they need help as their business rates have risen by more than 10% over the past two years and are set to rise again by 2.6% next year.
Denise Turvey, owner of cosmetics business Kiss and Make-up, said: "We just can't survive if it keeps going on.
"We will not be signing a lease in 2014, we may as well run our business from home."
However, Mr Banner said he would be helped by the council scheme which offers free rates for a year or a £10,000 contribution to costs.
"It will help us employ an extra member of staff and I'd rather be employing local people than paying rates," he said.
Cannock Chase District Council said four other firms had been approved for the discounted rates scheme and it had a further £60,000 to offer.