Stafford hospital admits some chest patients at night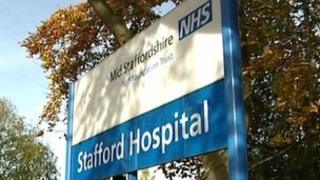 A hospital which has closed its emergency department at night is now admitting some people with chest and breathing problems overnight.
Stafford Hospital begun closing its A&E between 22:00 and 08:00 last December after being unable to recruit enough specialist staff.
During the closures, the hospital has still accepted children and maternity patients referred by their GPS.
The hospital will admit non-emergency chest patients brought in by ambulance.
Charles Spencer, a clinical director for acute care, urged people not to just turn up at Stafford Hospital.
No walk-ins
He said: "We have carefully worked out protocols with the ambulance service that mean if people appear to be critically ill they will still be taken to a hospital with an A&E department open.
"I would like to emphasise that we are not opening to walk-ins so please, if you are breathless and you have chest pains you need to go via the out-of-hours GP service or the ambulance service."
He said the hospital would "start small" and build up the number of chest patients admitted at night.
A meeting of the Mid Staffordshire NHS Foundation Trust in September heard standards had been met to reopen the A&E at night.
However, the hospital commissioning board decided to keep it closed because it was concerned about "the sustainability of a 24-hour service".