Public meeting held over Cannock Chase Hospital future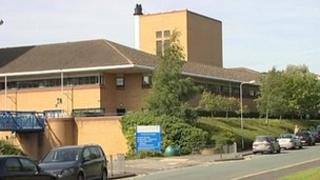 A Staffordshire hospital which is 20% empty does have a future, a public meeting has been told.
About 170 people attended the meeting about Cannock Chase Hospital at the Civic Centre, Cannock.
Mid Staffordshire NHS Foundation Trust, which manages the hospital, said the trust had a £20m deficit in 2011/12.
A team appointed to find a long-term strategy said it could see the hospital remaining but did not know what services "would look like".
The "contingency planning team", which includes accountants Ernst & Young and management consultants McKinsey, has been appointed by Monitor, the regulator of foundation trusts, which is due to make a decision over the hospital in March.
The team told the meeting it was "looking at what protected services have to be delivered locally both for the safety of the public and because there are no other alternative providers".
It said it was working with other hospitals in the West Midlands region to see how services could be delivered.
Steve Kirby, from the team, said: "I can see it [Cannock Chase Hospital] continuing. What those services would look like I don't know."
The trust, which manages Cannock Chase Hospital and Stafford Hospital, said it was heading for a £15m deficit in 2012/13.