Job cuts 'not ruled out' at Staffordshire hospital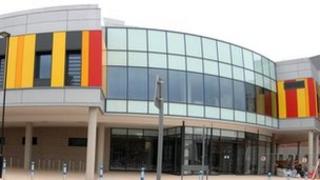 Managers at a Staffordshire hospital have said they "have not ruled out making job losses" after forecasting a budget deficit of almost £10m.
The University Hospital of North Staffordshire blamed rising debts on a 15% increase in Accident and Emergency (A&E) treatment in the last year.
Chief Executive Julia Bridgwater said: "You can never say never to job losses - you can always make efficiencies."
"We have to look at that but I will not compromise patient safety," she added.
Seven thousand people currently work at the hospital.
'Significant income'
At a hospital board meeting on Friday, the trust said it would "fail to meet its statutory duty to deliver a break-even position", despite forecasting a £2m budget surplus at the beginning of the year.
It said the forecast £9.8m shortfall by the end of March 2013 also assumed "additional income" of £14m, although the trust said it only partially covered its extra costs.
Ms Bridgwater said the trust was putting in measures to manage its finances for the next four months.
She said: "We need to attract significant income for all the extra patients we've treated.
"We also need to look at our internal controls for paying locum and agency staff by spending money we only really need to."
The hospital's financial director John Maddison last week left the trust.
He has been replaced by Graham Bennett who has come in as a consultant for the next four months.
The hospital said it hoped to advertise for a permanent post in the new year.