Bridge plan for Stone's Whitebridge Lane level crossing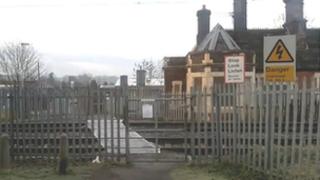 A pedestrian level crossing in Staffordshire could be replaced by a footbridge after a number of near misses with trains, Network Rail said.
It wants to remove the crossing at Whitebridge Lane in Stone.
Stafford Borough Council rejected initial plans for a bridge in July after worries about the impact on a nearby Grade II listed building.
Network Rail said the bridge was needed to reduce safety risks and it had amended its plans.
It said it had made changes to take into account concerns over the 200-year-old crossing keeper's cottage.
It has resubmitted the plans to the council.
There have been "several" reported near misses at the junction in the past two years, the company said.