Keele farm has Fraser fir Christmas trees worth £600 stolen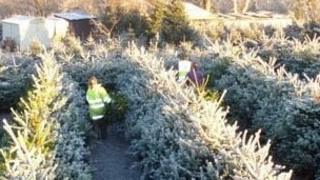 Hundreds of pounds worth of unusual Fraser fir Christmas trees have been stolen in Staffordshire.
About 40 trees have been taken, worth approximately £600, from Keele Christmas Tree Farm.
Ian Jefferies, co-owner of the Staffordshire business, said he was shocked at the "downer" of a theft at this time of year.
The Fraser firs had just been delivered from Scotland when the theft happened overnight between Saturday and Sunday.
Offenders forced their way through a 7ft (2m) high hawthorn hedge in the first incident of its kind at the farm.
Mr Jefferies, who has run the business for 30 years, said he believed Staffordshire Police would be able to trace those involved.
He said: "This theft is a downer but we have a massive loyal customer base of people who come every year to buy from us and I think if anyone sees any trees for sale in strange places they will tell the police.
"We can identify them easily because no one else in the country shears Fraser firs the way we do, even without their barcodes we can identify them as ours."
Fraser firs originate from North America and are a new addition to the Christmas tree market, grown for their needle longevity, fir smell and tight shape.