Raw sewage 'kills' crops at six Stafford farms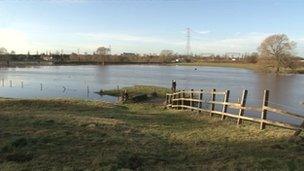 A group of six farmers are demanding action from a water company to stop raw sewage flooding on to their land which they claim has killed their crops.
Seventy acres of land from Baswich to Tixall Road in Stafford was flooded which caused manhole covers to lift up and sewage to leak out.
Farmer Rob Stubbs said: "There's no sign of any growth at all where this pollution seems to have occurred."
Severn Trent said it would fix the problem after flood waters went down.
Steve Egerton, a land agent representing the farmers, said they were hoping to get compensation from the water company.
"These farmers are seriously out of pocket, one farmer's hay crop has been completely contaminated and had to be destroyed," he said.
"The grass fields are no longer suitable for grazing and the losses equate to 35 football pitches in size - that is a significant part of these farmers' land holdings."
Mr Egerton said Staffordshire County Council environmental teams had been out to test the land and confirmed that E. coli counts were "enormously high".
Severn Trent said it was responsible for sewerage in that area and it was "working with land owners to assess the problem".
Chris Giles, from the company, said: "We have investigated the issue and we have devised improvements that could help reduce the likelihood of river water entering the system during times when flooding occurs.
"We are continuing to work with the Environment Agency and we will be carrying out these works as soon as the land is accessible."
Related Internet Links
The BBC is not responsible for the content of external sites.