A34 in Stone reopens after flooding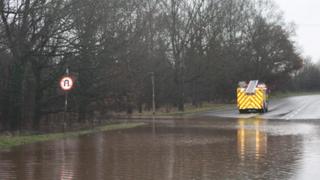 A main road in Staffordshire has reopened after firefighters used two high volume pumps to clear floodwater which had forced its closure.
Fire crews were called to the A34 near Stone at 10:20 GMT on Thursday and rescued a driver trapped in floodwater.
The road was shut overnight after water rose to about 1ft (30cm).
Flood warnings have been issued on the River Trent for Barton-under-Needwood and on the River Sow at Tixall, the Environment Agency said.
On Thursday, 30 children and staff were evacuated from the nearby Meaford Day nursery because of flooding on Meaford Road, near the A34 junction.
Adele Cheadle from the nursery said: "It's a regular problem with the canal up the road, it keeps overflowing.
"I want the county council, the Environment Agency and the river and canals trust to get together and sort the root of this problem out, or it's going to keep happening."
Ian Turner from Staffordshire county council said its highways teams were looking at ways to stop the road flooding in the future.
He said: "If there was an instant solution we would put it right.
"What we are doing is looking at all the places that are flooding and using all the resources we can get to find a solution."
Friday's meeting at Uttoxeter racetrack was abandoned due to a waterlogged track.