Stoke-on-Trent food bank seeks new home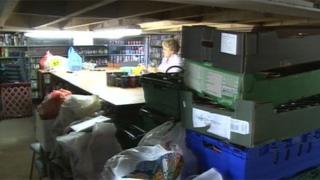 Organisers behind a food bank say they are desperate to find new premises after a big rise in demand.
Stoke-on-Trent Food Bank has helped more than 3,500 people since it opened eight months ago, according to volunteers who run it.
They said demand had increased nine-fold since May, with 900 people receiving food parcels last month.
Food bank manager Sue Simcoe said the group had outgrown its base at the Wesley Hall Methodist Church.
"We're pretty desperate. We've taken over the upstairs room as an extension of the warehouse - we took over the minister's office.
"At all times we're struggling for space," she said.
'Dire straits'
The food bank on Noblett Road is part of the Trussell Trust. It works with eight churches in the city to find donations and distribute food parcels.
One of those helped by the charity, single father Peter Young, said it had been a lifeline while he was waiting for child benefit payments to start.
"It's been very hard. If it wasn't for this place I'd be in proper dire straits," he said.
Volunteer Jill Stone said: "We've heard stories of people that have literally been trying to find food out of bins.
"We sent emergency food out because we heard of a family that unfortunately the children were having rabbit food."
The food bank also works with social services and other agencies to identify people in need.
Volunteers said the surge in demand also meant they were in need for more non-perishable food.