'Shakespearian time capsule' finds go for £160K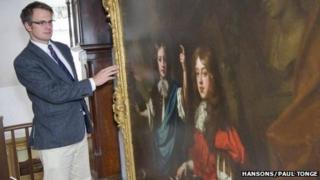 More than 170 items which were found in what auctioneers described as a "Shakespearian time capsule" have been sold for more than £160,000.
The goods, from tapestries to four-poster beds and mostly dating back to the 17th Century, were found in a house clearance in Yoxall, Staffordshire.
The lot had been predicted to reach about £100,000 in total.
A 1670 painting of "two young gentlemen" was expected to sell for £3,000 to £5,000 but sold for £62,000.
The couple who owned the house, who spent a lifetime building up the collection, made it a condition of their will that nothing be revealed about them or their reasons for building up the collection.
They had no children and the proceeds of the auction will go to an animal charity.
A viewing day was held on Friday at the auction house in Etwall, Derbyshire, and there was interest from as far away as Tasmania and Sri Lanka.