Payout after Stafford Hospital patient Alan Nash death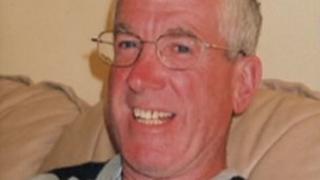 The trust that runs Stafford Hospital has agreed to pay £20,000 to the family of a man who died when his bowel burst after a routine procedure.
Alan Nash, 61, from Stafford, died in March 2010 after undergoing a colonoscopy at the hospital.
An inquest found Mr Nash, who had rectal cancer, had been killed by a build-up of pressure in the bowel
Mid Staffordshire NHS Trust has not admitted liability but said it was pleased a settlement had been reached.
The solicitors acting on the family's behalf, Irwin Mitchell, said they found that Mr Nash was one of five patients within a four-month period who experienced complications after undergoing colonoscopies at the hospital.
The procedure involves an examination of the bowel with a fibre optic camera
Mr Nash's family claimed there were problems with the sort of surgical instrument used and they believed his bowel was perforated.
However, an inquest held into his death in February 2011 found that he died after his bowel burst due to a build-up of pressure in it - not because of any problems caused by a surgical instrument.
Mr Nash's family said he had been frightened about being treated at Stafford Hospital after a Healthcare Commission report in 2009 had found "appalling standards" of care there.
'Want changes'
His widow Jenny said the family had hoped his treatment would keep him alive for as long as possible, despite his cancer.
She said: "You could have all the money back for five more minutes with Alan.
"The money means absolutely nothing. What we want is for changes to be made so that other people don't have to go through what we've been through."
In a statement, Mid Staffordshire NHS Trust said it did not admit liability in this case and did not believe there had been a breach of duty of care to Mr Nash.
However, it said it was pleased that the out-of-court settlement had been reached.
The 2009 Healthcare Commission report found hundreds more people than expected died at the hospital as a result of the treatment they received there.
A report into the findings of of a public inquiry into the failings at Stafford Hospital is expected to be published over the next few weeks.