More police call outs amid snowfall in Staffordshire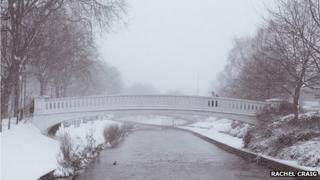 Officers in Staffordshire say they are dealing with "a high number of extra calls" after heavy snowfall.
The force said it had increased the number of foot patrols it carried out as snow continued to affect roads.
Supt Dave Forrest said: "Our vehicles are affected by the weather conditions too, which, along with the volume of calls, may affect response times."
He urged people to delay making non-emergency calls where possible and only dial 999 in a real emergency.
The officer, who is responsible for the force's planning, said it was working closely with local authority colleagues and the Highways Agency to respond to weather-related incidents and had well-prepared plans in place.
About 250 Staffordshire schools were closed because of the snow on Friday.
Vehicles abandoned
Police as well as the fire service advised people to only drive if absolutely necessary and then take extra care.
A fire service spokesman said: "If your journey is important, make sure you've got a shovel, warm clothing, and a hot drink in case you break down."
West Midlands Ambulance Service, which covers Staffordshire, said it has seen an increase in call outs of nearly 20% from a usual Friday morning, which was mainly because of an increase in slips and falls.
The M6 and M54 were among major routes in the county affected by accidents.
First Bus and Wardle Transport cancelled their services in the county because of the conditions.
Officers in Cannock warned problems in the Rawnsley area had led to some people abandoning their vehicles.
Snow over much of the West Midlands region was expected to become lighter and more intermittent on Friday evening and night, according to the Met Office. A minimum temperature of -4C was expected.
The Met Office warned icy patches were likely to form widely, even on treated surfaces.