Council overspend on Staffordshire gritting budget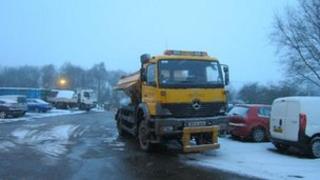 The recent bad weather has caused Staffordshire County Council to spend more of its gritting budget than expected.
The head of highways, Ian Turner, could not confirm exactly how much extra it had spent but said it was because of labour costs and vehicle maintenance.
Mr Turner said: "We treat according to what circumstances arise with the weather not the budget limit."
The authority said it was still within its annual budget on gritting of £2.7m.
Over the past week, the council has used about 5000 tonnes of salt.
Mr Turner said: "We tend to treat 43% of the network and we will grit that accordingly.
"We can't really claw the money back but we also can't get to a point where we've spent the budget and we aren't going to do anymore."
Mr Turner added that in years with really bad weather the council could spend up to £1.3m extra.
The authority said it had 10,000 tonnes of grit stockpiled in the Staffordshire Moorlands in preparation for adverse weather conditions.
There were reports of hazardous driving conditions on A5 near Lichfield, and the A53 in Leek because of ice and snow.
'Treacherous pavements'
The Met Office said there would be snow flurries, mainly in the Peak District.
Newsagent Chris Green, from Ladderedge said the pavements had been "treacherous" in places, while out doing his deliveries.
He said: "The roads are really quite clear but on the pavements it's packed down snow, which has frozen, making it very slippery."
Sixteen schools have been shut in Staffordshire because of snow and freezing temperatures.
At least 14 in the county council's area have been partially or totally closed following the cold weather, with two in Stoke-on-Trent also affected.
In Stoke-on-Trent, the City Council said its gritting teams had been out throughout the night and that main roads were clear.
It warned pedestrians that some side roads and footpaths were slippery because of ice.
A council bin lorry driver had been taken to hospital after he slipped over and injured his ankle, the authority said.
Ruth Rosenau from the council said: "We have plenty of salt and will be gritting throughout the day.
"As well as clearing the roads, we are also busy refilling grit bins which people can use to treat roads and footpaths in their area."