Councillor sorry after March on Stoke Twitter 'insult'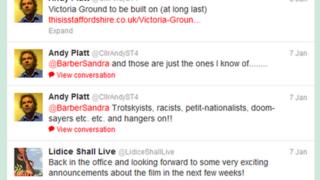 A Stoke-on-Trent city councillor has apologised after saying online that a group of campaigners were "racists" and "Trotskyists".
Labour councillor Andy Platt made the comments on Twitter about the March on Stoke group.
The group, which is opposed to the City Council's planned £40m move from Stoke town centre to Hanley, said they were "insulted" after seeing the comments.
Mr Platt said sorry for causing offence and he regretted his choice of words.
Stoke-on-Trent City Council and the West Midlands Labour Party has refused to comment.
'Not malicious'
In the post to his Twitter page on 7 January, Mr Platt said the group were: "Trotskyists, racists, petit-nationalists, doom sayers, etc, etc and hangers on!!! And those are just the ones I know of...."
In a statement sent to the BBC, Mr Platt said: "I am sorry for the offence I've caused.
"I regret using the words I did most of all because the people I offended, like myself, clearly care deeply about our city."
Chairman of the March on Stoke group, Alan Barrett said he would not be taking any more action after Mr Platt had apologised.
He said: "We're not malicious or spiteful and the city doesn't need it to escalate into name calling between us and the council.
"We want to focus our efforts on holding the council's move from the Civic Centre to account."
The group are planning a protest march from Hanley to the council headquarters in February.