A34 at Meaford reopens after flooding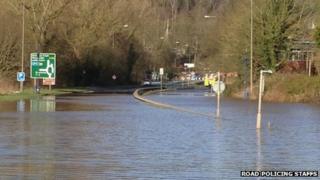 Firefighters have used two high volume pumps to clear water from the A34 in Staffordshire which had been closed for two days due to flooding.
One woman had to be rescued from her car as the water on the road near Meaford reached 4ft (1m) deep.
Staffordshire County Council said the floods, caused by melting snow and rain, had washed away a temporary dam it had built.
It said it was working to find a permanent solution to the flooding.
The authority built the dam and brought in a team of divers to clear a culvert under the road at the start of the year., to ease the problem.
Mike Maryon, from the council, said that had worked as a temporary measure but was not sufficient to deal with the "amazing" amounts of water at the weekend.
He said: "What we haven't been able to do yet is the remedial work on private land, away from the highway, that's stopping the water draining away.
"The reason we haven't done that is that the water levels have never gone down for us to get the machinery in."
He said the council was now bringing in specialist equipment to clear the area and engineers would rebuild the dam.
The county's fire service said crews had attended seven flood-related incidents at the weekend.