Stafford Hospital neglect examined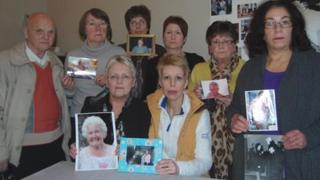 Patients left in soiled sheets, others crying out in pain and some so dehydrated they drank from flower vases,
The Stafford Hospital inquiry heard accounts of almost unimaginable neglect in what was one of the biggest scandals the NHS has known.
The inquiry looked at how failures in care were allowed to happen by managers and regulators at a hospital where, between 2005 and 2009. there were hundreds more deaths than expected.
In his report Sir Robert Francis QC has found there were failings from the top to the bottom of the NHS. The 1,781-page study catalogues missed opportunities at every turn to put a stop to the neglect.
But why did it take so long to get to this point, when the alarm was first raised by Terry Deighton, a member of a local patients' group, more than six years ago?
In 2006, Mr Deighton decided to carry out an inspection of hygiene standards at the hospital and found "shocking" conditions at A&E.
'Left in disgust'
He said: "The area itself was dirty , there were hypodermic needles and dressings on the floor where patients were going in and out."
He wrote a report expecting the patients' group, the PPI , to demand urgent action from the hospital - but nothing was done.
"There was the fear the report would cause friction between the hospital and the PPI and they felt the report should be watered down."
Mr Deighton ignored them and went straight to the hospital's chief executive, Martin Yeates.
"He didn't like it and his view was that I had exaggerated. I only had about seven or eight minutes with him and I left in disgust," Mr Deighton said.
At the same time, a nurse at the hospital, Helene Donnelly, was also trying to raise the alarm about A&E.
She said: "I saw people dying in very, very undignified situations which could've been avoided.
"They weren't just one-offs now and again; they were relatively frequent."
'Didn't want to know'
She asked managers to take action but they told her to fill out an incident form if she had a concern.
During her six years in A&E she submitted nearly 100 such forms.
"I had no indication these were read; managers were just not listening and didn't want to know," she said.
She said the hospital, at that time, was cutting costs so it could meet government targets to become a foundation hospital trust.
It was awarded foundation status on 1 February 2008.
The health secretary at that time, Labour's Alan Johnson, denied that political pressure had an affect on hospital care.
He said: "That suggests that the chief executive was right to cut staff and put receptionists on triage nursing because he was under so much pressure.
"I don't accept that at all: it was disgracefully poor management at the hospital."
In early 2007, the Dr Foster research group published findings that Mid Staffordshire Hospital Trust had the fourth highest death rates in England.
Professor Sir Brian Jarman from the group said instead of trying to find out why, hospital managers questioned the figures.
He said: "Their reaction was to employ some academics to try to discredit us, which was frustrating.
"It was frustrating to not to be able to go there and explain to them what the problem was and over that period, those months, more people were dying in their hundreds."
In September 2007, 86-year-old Bella Bailey died at Stafford Hospital after being admitted with a hernia.
Her daughter Julie Bailey said she had witnessed "appalling standards of care", and wrote a letter to a local newspaper asking for other people's experiences.
Ms Bailey said the response was "overwhelming" and led to her setting up the Cure the NHS campaign group.
"I just wanted to stop what was going on in the hospital and after the first meeting, we realised that the problems at the hospital were more than just our own experiences."
After 18 months of campaigning by local people, the Healthcare Commission (HCC) carried out a surprise inspection of A&E at Stafford Hospital, leading to a damning report which was published in March 2009.
Dr Heather Wood, who worked at the HCC at that time, said: "Virtually everywhere we looked on the emergency department, medical wards or the surgical wards, problems were there.
"We had a situation where nurses who didn't understand cardiac monitors, and were annoyed by their bleeping, actually switched them off."
Dr Wood said Mr Yeates was "shocked" by their findings. He resigned three days before the publication of the report.
Since that report, politicians have made a number of recommendations to prevent another scandal on the scale of Stafford Hospital.
Now the findings of the inquiry will bring in a whole new series of measures for the NHS and its staff.
Julie Bailey said her campaigning would not stop until those recommendations were "successfully implemented".
She said: "I hear complaints every day, some not dissimilar to what my mum suffered.
"There aren't those systemic failures but on an individual basis and that's got to stop because my mum didn't die in vain."