Leek Sunday Supplement Market opens to boost town trade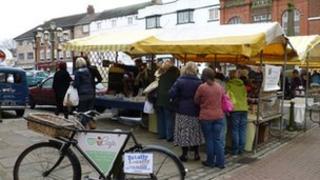 A Sunday market has been launched in Leek, Staffordshire following a trial last year.
Marc Briand, from the Sunday Supplement Market, said it would provide the town with a valuable extra day's trading.
Held on the first Sunday of each month in the Sheepmarket and Stanley Street area, Mr Briand said there was already a waiting list for stalls.
Some 30 traders are due to sell a range of goods from art and jewellery to food.
The market is also expected to see nearby shops and cafes open in a bid to attract more tourists to the town.
Mr Briand said the response from traders had so far been very positive.
Cisco Davies, who runs a chocolate stall, said: "We wouldn't be able to open a shop, because we wouldn't be able to afford the rents.
"So it's ideal for us to pay a little bit on the stall and get the name and the product out."
His business partner Meg Walmsley-Pitt said the market also offered a sense of community that was rare among independent shop owners.