Stafford Hospital: Families meet with Robert Francis QC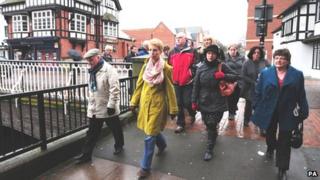 The grieving families of victims of "appalling" treatment at Stafford Hospital have met with the author of a report into the hospital's failings.
Robert Francis QC said there had been "unnecessary suffering" that led to hundreds of deaths between 2005-2008.
Following the meeting in Stafford, families renewed calls for resignations at the top of the NHS.
They said that implementing just some of the report's 290 recommendations could help prevent similar situations.
Ann Dobbing, whose 81-year-old mother Joan Giles died at the hospital in January 2009, said campaigners still wanted to see NHS chief executive Sir David Nicholson stand down.
The executive was briefly in charge of the regional health authority while death rates were high at Stafford Hospital.
'Magnificent job'
Mrs Dobbing said: "He said he will not leave his position, but regrets his position.... He was there when our loved ones were dying and he said nothing."
Earlier, Sir David said he understood the anger the families felt and apologised again for what happened, but said the NHS "needs action, we need to make things happen".
Mrs Dobbin's brother Walter Giles said: "It was a constructive meeting - it was definitely for us and not for Robert's benefit.
"He has done a magnificent job - the report is a great foundation to build on for the future."
Leaving the meeting, Mr Francis also said it had been a "constructive meeting".
Before it, he said: "I felt I had to come back here to give these people, without whom these inquiries would never have taken place, the opportunity to ask me any questions they had after reading the report. I do feel moved by that."
Christine Dalziel, from Rugeley, whose 64-year-old husband George died following treatment at Stafford Hospital in 2007, said she felt the families had been able to have their say in the meeting with Mr Francis at the Stafford Borough Council offices.
She said: "Even if a few of [his recommendations are implemented], it should make a difference."
'Downright misleading'
But her son-in-law Pete Basford, from Stafford, said he did not feel let down by the fact Mr Francis had not blamed individuals in the report.
He said: "He told us that if you read the actual report in depth, you can see clearly where the blame lies - he didn't have to spell it out."
Mr Basford added: "It was good for him to come here and talk to us - he's heard all the evidence at least twice now in two inquiries, but we feel as if he cares."
June Locke, whose daughter Jane died aged 46 after treatment at the hospital, described it as a relaxed meeting and said she was satisfied with the recommendations.
The Cure The NHS group, set up to expose what happened at the hospital, has also criticised ex-Stafford MP David Kidney for not doing more to highlight the problems.
Earlier, Mr Kidney, who was Labour MP for the town between 1997 and 2010, said the hospital had made it difficult to get to the truth.
He said: "As the Francis report suggests, the reason [the information] wasn't available was because the hospital trust was so successful at being secretive and I would add - at times - was downright misleading about what they actually said was happening.
"Of course I look back and say, 'if I'd done this or that differently, would that have made a difference?'"
Earlier, Staffordshire Police said it was still studying the report's full contents.
In a statement it said that although the five major inquiries held into the hospital had highlighted unacceptable standards of care, "at that time there was no evidence that the circumstances of any of the tragic deaths constituted a criminal offence under the law".
It added: "Two cases of misdiagnosis were formally investigated following patient deaths.
"Whilst these were understandably distressing to family members, no evidence was found to suggest that the misdiagnosis constituted gross negligence or a gross breach of a relevant duty of care owed by the hospital."