Chip pan fire emergencies increase in Staffordshire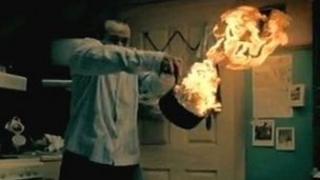 The number of chip pan fires attended by crews in Staffordshire has increased by 8% over the last two years, the county's fire service has said.
In 2012 Staffordshire Fire and Rescue Service attended 70 house fires caused by chip pans.
Glynn Luznyj, head of risk reduction, said: "Chip pans can cause serious fires because they can very quickly overheat and then ignite."
To raise awareness the fire service is organising demonstrations this week.
In 2012 the neighbouring Cheshire Fire and Rescue Service attended 39 fires caused by chip pans.
Crews in the West Midlands were called out to 21 similar incidents between February 2012 and February 2013.
A fire service Spokesperson said: "Whilst we have only had a small increase in chip pan fires it is an increase nonetheless and all were avoidable fires.
"We hope by educating people further about the dangers of chip pans we will see a decrease in such fires this year. "
'Falling asleep'
Last week three people in Tamworth called 999 as a chip pan fire destroyed their kitchen late at night. They were uninjured.
Tamworth station manager Al Bateman said: "Luckily, smoke alarms operated in the property and alerted the people inside to the fire. They managed to escape and firefighters extinguished the fire.
"The kitchen has been destroyed and this incident could have been avoided had the chip pan not been left unattended."
Mr Luznyj added: "We attend numerous fires caused by people putting their chip pans on and then falling asleep or getting distracted by a phone call or someone at the door."
Instead the service is urging people to use deep fat fryers with automatic thermostats "or consider a healthier option that does not require the use of cooking fat or oils."
Cannock firefighters will be holding two chip pan fire demonstrations in the town centre on 20 and 21 February between 11:00 and 13:00 GMT.
Another will be held in Stafford's Burton Square between 13:00 and 16:00 on 22 February.