Stoke-on-Trent City council approves £21m cuts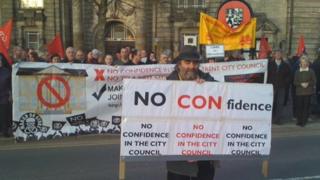 Stoke-on-Trent councillors have approved plans to cut £21m from next year's budget.
About 200 protesters gathered ahead of the meeting, which was set to approve shedding more than 200 jobs.
The council has seen £1m come out of its budget because it returned European regeneration cash which was not spent within a stipulated time limit.
Chief executive John van de Laarschott said similar grants were used within deadlines.
The £1m was part of a £4.7m grant for regeneration projects awarded by the European Regional Development Fund between 2000 and 2006.
Last month, the Department for Communities and Local Government (DCLG) clawed back that money, along with more than £20,000 more incurred through auditing costs.
'Stringent monitoring'
Mr van de Laarschott said: "There were no issues in terms of what the money was spent on because we've delivered the outcomes.
"We spent the money later than we should have done and as such we face a penalty and the penalty is you need to pay back those monies that were defrayed outside of the time period.
"In our case that's £1m.
"Since then we have, with support from DCLG, put in much more stringent monitoring and reporting systems."
A six-week public consultation on the Labour-led council's 2013-14 budget began in November.
Before the meeting started at 17:30 GMT, Simon Green, regional officer for Unite, said the cuts to wages and jobs was "disproportionate" and would affect the lower-paid workers most.
Alan Barrett, chairman of the March On Stoke group, said: "The council needs to recognise the strength of feeling is coming from right across the city - nobody wants the cuts.
"They're not only affecting workers but elderly people, children who access youth services - the cuts always start at the bottom, they're never top down."
Jason Hill, of North Staffordshire Against The Cuts, said: "We want this council to make a stand against the government and say: 'We're going to have a deficit in our budget'.
"We're opposed to the cuts, especially with the building of a new civic centre for millions of pounds."