Erasmus Darwin designs brought to life at Lichfield home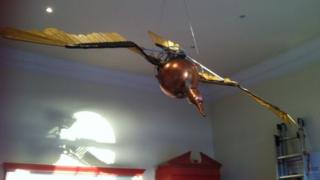 Designs by Dr Erasmus Darwin have been brought to life at his former home in Staffordshire.
The new exhibition at Erasmus Darwin House in Lichfield features a mechanical steampunk bird, a talking machine and other Darwin creations.
They have been built, following his designs and notes, after a Heritage Lottery grant was rewarded and match-funded by local charities.
It is the second phase and tops up the £100,000 to refurbish the museum.
Curator Alison Wallis said: "We are incredibly excited to bring to life some of Erasmus Darwin's most fascinating inventions, straight out of his commonplace book.
"We're hoping that this helps the general public better understand the true genius of Dr Darwin."
'Crazy idea'
Erasmus Darwin House is a Georgian town house and the former home of the scientist, doctor, inventor, poet and grandfather of Charles Darwin.
While living in Lichfield, he enjoyed designing inventions and carrying out experiments.
Some of the exhibits have been produced for public interaction while some, such as the mechanical bird, have been built to hang from the ceiling in the Lunar Room.
Rhodri Thomas, from Vertigo Creative, said: "We constructed a model of what the bird might have looked like and it said in the notes that it was powered by gunpowder.
"We were thinking that that's a bit of a crazy idea but then we realised that what he was describing was an internal combustion engine and that the gunpowder would basically charge or run the combustion engine.
"He wouldn't have had petrol, or known what it is, but it was actually quite ahead of its time really, so that's how the bird would have worked.
"A lot of his writings seem to indicate that he had a very good grasp of the whole natural world and the theory of evolution - I don't know that he called it evolution - but I think he had a very good idea that evolution is how things have worked."