Staffordshire coal mine plans show 'lack of respect'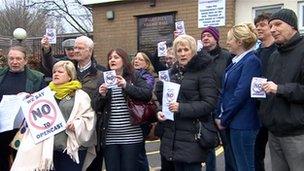 Plans to operate an opencast mine in north Staffordshire show a "lack of respect" for miners buried in a 19th Century pit disaster, campaigners say.
About 80 miners died at nearby Diglake Colliery in 1895 and almost all remain buried underground after attempts to recover them were considered unsafe.
UK Coal is hoping to extract 450,000 tonnes of coal from an 80 hectare (197 acre) site near Bignall End.
The firm said its scheme had been designed to avoid the disaster site.
It has been exhibiting the plans at a consultation meeting at Talke Pits Village Hall, one of four so far held in the area.
One campaigner, Judith Edgeley, said it was a sensitive site that should not be disturbed.
"They are going to opencast mine on top of these men. They weren't afforded a Christian burial and I don't think it's right [to mine the site]," she said.
Dave Bolton, national operations manager at UK Coal said the firm was aware of the disaster and its plans meant it would "not be mining anywhere near" the bodies.
He said the proposed opencast mine would only go down 20m (65ft), with the disaster site 145m (470ft) below.
Mr Bolton said the company could "absolutely guarantee" it would not come across the bodies if the mining operation went ahead.
Other campaigners have said the proposed mine would yield relatively little coal for the disruption it would cause and UK Coal should target sites away from greenbelt land.
The company is due to submit a planning application within a few months.
It said it proposed to extract the coal over a two-and-a-half-year period, before landscaping the site.
Simon Taylor, from the firm, said its operations were heavily regulated and would have far less of an effect on the local community than many people fear.
Related Internet Links
The BBC is not responsible for the content of external sites.