Bignell End mine protesters stage march in Audley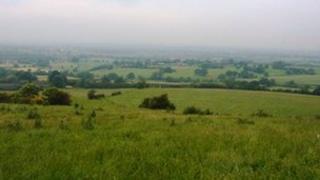 Campaigners against plans for an opencast mine in north Staffordshire have staged a protest march.
UK Coal wants to extract 450,000 tonnes of coal from an 80 hectare (197 acre) site near Bignall End.
But residents say the site is sensitive because the bodies of about 80 miners are buried nearby after a flooding disaster at Diglake Colliery in 1895.
Protesters marched through Audley, close to where the mine would be, to the Wedgwood Monument in the town.
'Absolutely certain'
Claire Hansbury, leading the campaign group, told BBC News that UK Coal has got "the wrong site and the wrong idea" and should drop its proposals.
"Because the site is very sensitive and was the flood disaster site of Diglake... we do know that people need to know about this and it is a mass grave so that is a major thing for this community, aside from the usual planning proposal things when an open space mine is proposed."
David Green, from UK Coal, said the company was sensitive to the colliery disaster and the bodies would not be disturbed.
"We are absolutely certain that we will not be disturbing the parts of the mine that were being mined on the day of the disaster," he said.
"We could not go down that deep."
He said the bodies are 120m (393ft) down and UK Coal plans to only reach 40m (131ft).
Plans for the mine have not yet been submitted by the firm.