Stafford Hospital acute services 'essential' says Trust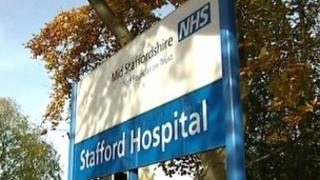 The board of Mid Staffordshire NHS Trust has said it is essential that acute services stay at Stafford Hospital.
Responding to the Contingency Planning Team Report by the regulator Monitor, it said the proposed downgrading of service provision is "dramatic".
Monitor recommended some practices should be downgraded and patients treated at nearby hospitals.
They included maternity care as well as some accident and emergency treatment.
The board added that it "should not be all or nothing" at the hospital.
It agreed that acute services need to change, but should remain at Stafford and that it needs to work closely with other hospitals.
The report stated: "It is absolutely essential that acute medicine [including care of the frail and elderly] is retained on the Stafford site, given the current population and future demographics in South Staffordshire.
"The board does not consider acute medicine, emergency and urgent care or ITU [Intensive Therapy Unit] could remain as standalone services and recognises that these would need to be networked [as a minimum] with another acute trust."
It added that the trust: "cannot safely sustain clinical services without change and without networking with other hospitals."