Gymnast Beth Tweddle given Freedom of Cheshire East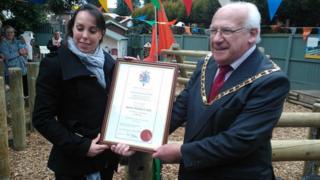 Gymnast Beth Tweddle has been given the Freedom of the Borough of Cheshire East.
Borough mayor George Walton presented the Olympic bronze medallist with the award at a nursery school in Sandbach.
The 28-year-old also opened an adventure playground at the school.
The council has already announced that a road on a new housing development in Bunbury, where she grew up, will be called Beth Tweddle Close.
Ms Tweddle, who won bronze on the uneven bars at London 2012 to add to her four world titles, said she was "proud" to receive the honour.
'Hard work'
The most decorated GB gymnast in history said: "I do gymnastics because I love it.
"I don't expect the recognition that you get from it but when your local community comes together and gives you something like the freedom of the borough [and] my street that's been named after me it is a very proud moment.
"It's only when you take a step back that you realise you do have an impact.
"I don't see myself as anyone different.
"If I've got a dream and a challenge then I'll work hard to achieve that."