Crewe Royal British Legion support centre opens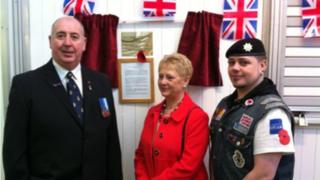 The Royal British Legion has opened a drop-in centre in Crewe in a bid to support armed forces personnel and their families.
Stuart Kay, from the branch, said volunteers would be able to help with anything from providing information on welfare funds to filling in forms.
"In the first instance though it's just being an ear for someone," he said.
About 30 people attended the office at the Market Centre in Crewe, which was opened by the town mayor.
It will be staffed by volunteers from the Royal British Legion on Mondays, Fridays and Saturdays.
Mr Kay said many of those involved understood the pressures on serving personnel and their families.
"It makes it more real. We know what it's like to have someone point a gun and shoot at you," he explained.
Mr Kay, a former member of the Parachute Regiment, said the volunteers also had access to many of the resources available for people seeking help.
The centre is dedicated Ernest Cope, who died aged 95 in December.
He was from Crewe and joined the Royal British Legion in 1944.
His daughter Pauline Wilson was at the ceremony to see a plaque dedicated in his memory.