JCB records highest ever profits in 2012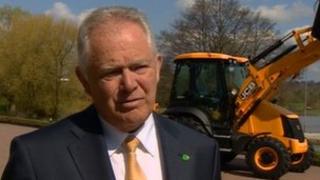 Digger maker JCB has recorded its largest ever profit.
Although turnover in 2012 remained fairly static at £2.7bn, the Rocester-based firm announced a profit of £365m, up £10m on the previous year.
JCB opened a £63m factory in Brazil in September, saw trade double in Africa and rise by 12% in the Middle East. It is also building a factory in India.
Chief executive Alan Blake said the company is looking to recruit more permanent staff in the UK.
About 1,000 people currently working for JCB in Staffordshire are agency workers, but Mr Blake said: "We've already recruited over 500 people this year alone so it is good news for jobs, and we currently have 100 vacancies for highly specialist engineers.
'No party'
"Most of our full-time employees have entered through some period of temporary work, proved their worth and when conditions have been right we've taken them on."
The company saw a slight rise in unit sales from 69,100 to 69,250 in 2012 and plans to open a £62m plant in Jaipur next year.
Mr Blake said: "As we make profit we invest that profit back in and that means more products, more factories, more growth.
"Growth for JCB anywhere is good for JCB and a significant number of the machines are still made here in the UK and shipped around the world.
"We're never content so there won't be a party. We'll be pleased that we've got this growth but we'll be looking for next year's growth."