Stafford Hospital services 'needed for rising numbers'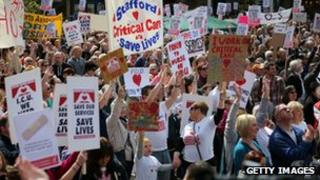 The Bishop of Stafford says downgrading the town's hospital would be the "last thing needed" amid plans to increase the local population "dramatically".
The Rt Rev Geoff Annas said that with 3,400 homes being built for families moving to MoD Stafford and other developments, all services were needed.
On Saturday, 30,000 people marched against plans to shut acute services.
A Monitor report in February called for the closure of services including the A&E department and maternity unit.
Bishop Annas claimed the move would have "huge implications" for people living in the town, who would have to travel to Stoke-on-Trent, Wolverhampton or Burton-upon-Trent for their care if the proposals went ahead.
He said: "We've got to make sure we build for the future - but also make sure the past is not repeated.
"It's not the fault of the people of Stafford that these things happened, but it seems to be the people of Stafford and the surrounding areas who will be penalised for it."
The trust that runs the hospital was put into administration by the health regulator Monitor on Monday.
Monitor has given the administrators for the Mid Staffordshire NHS Trust, Ernst and Young, 145 days to work with local healthcare organisations to produce a "sustainable plan" for the future of services at the Stafford and Cannock Chase hospitals.