Stafford Hospital bosses could face misconduct probe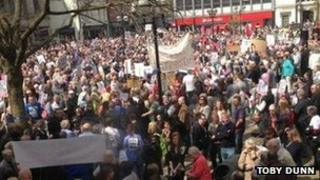 The former chairman and chief executive of Stafford Hospital are being referred for investigation over the hospital's death rates scandal.
Stafford Borough Council wants the Crown Prosecution Service to examine whether Martin Yeates and Toni Brisby misled its health scrutiny panel.
The panel claims 2008 rates were blamed on recording methods, not poor care.
Councillors claim the pair committed misconduct in public office by giving false information about death rates.
The motion was agreed on Tuesday as the full council met for the first time to debate a report published in March which was commissioned by Monitor and called for the closure of some services at Stafford Hospital.
Merging services
A statement from the council said: "Stafford Borough Council agreed last night to instruct the Chief Executive to make formal complaint to the Crown Prosecution Service in that Mr Martin Yeates and Mrs Toni Brisby committed the offence of misconduct in public office by knowingly giving false and misleading evidence to the council's statutory overview and scrutiny committee."
Mr Yeates and Ms Brisby have been unavailable for comment.
Voting on the recommendations from administrators, councillors also rejected proposals to close some Stafford Hospital departments, including the A&E department.
Link
They instead supported the idea of merging services with other NHS trusts.
In addition, it was agreed a letter would be sent from the council thanking the hospital supporters who organised a march on Saturday.
'Unnecessary suffering'
The Mid Staffordshire NHS Foundation Trust was the first foundation trust to be put into administration, an action resulting from a three-year public inquiry into "appalling standards" of care at Stafford Hospital, following concerns over high death rates.
Mr Yeates and Ms Brisby resigned from their roles shortly before the publication of The Francis Report, released in February, which highlighted the "unnecessary suffering of hundreds of people" between 2005 and 2009.
Staffordshire Police is studying the report to see if any criminal charges needed to be brought against those involved.
A statement from the police said: "Ultimately, our objective is to identify if there's any realistic potential for criminal charges.
"We are continuing to liaise closely with specialist prosecutors from the Crown Prosecution Service and other stakeholders."