Tunstall Park mine collapse: Work continues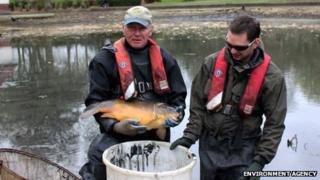 It is difficult to say when work to repair a collapsed mineshaft under a lake at Tunstall Park will be completed, the Coal Authority says.
More than 4ft (1.2m) of water drained out of the lake as a result of the collapse on Wednesday night.
James Walker, of the Coal Authority, said it was difficult to put a timescale on the project but stabilisation work was under way.
He said making the area safe was the "number one priority".
The authority is working with Stoke-on-Trent City Council on the repair project.
Mr Walker said further investigations would be carried out after the stabilisation work and the lake would be restored.
The authority is using clay to plug the 13ft (4m) wide hole which was left by the mineshaft's collapse.
Fish from the pool were placed in a separate pool in the park by staff from the council and the Environment Agency.
Coal-mining began in Staffordshire in the 18th Century and was an important industry for the county.